Dear gamers, 
Today we celebrate the one year anniversary of our Kickstarter campaign. We can't ever thank you enough for giving us the opportunity to develop this idea, especially considering that it was our first campaign and our first project as a publisher.
This anniversary also means that we are now way behind schedule and for that we apologize once again. It was extremely frustrating for us but we had to postpone the release until we were satisfied with the end result.
The editing is now completed, which basically means that the entire manuscript is ready to be published. Lyonel, our talented designer, is working on the layout, formatting those chapters nicely, placing the illustrations but also working on the GM screen and the map.
Speaking of design, we wanted to share the following idea with you. In an attempt to illustrate the rules as best as possible and make it easier to read, we tried to replace some words/concepts with small icons.
Here is an example taken from Chapter 2: Running a Faction. As you can see, the Trade faction type is associated to the yellow color, the other types being Order (red), Faith (blue), Magic (green) and Culture (purple).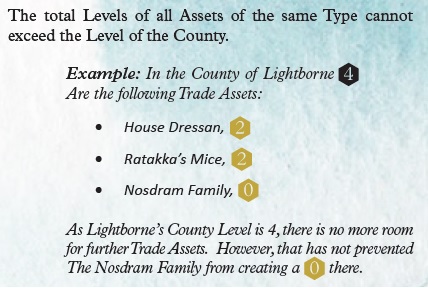 Sky Gods favor you.
The SoW Team